Top Class Cleaner London Cleaner London
Top Class Cleaner London
5-8 Raphael St
SW31BN
London
County: London, London
Branche:
Cleaner
Company description
Cleaning at home can be a time consuming activity that not everyone has the time to take care of. Do not worry about it anymore because this company is ready to provide you with the best cleaning service available on the market. Call customer service and receive a free quote over the phone.

Recommendations
Be the first to write a review.
Related blogs
Carpet Cleaning Made Easy With Cleaners in Newbury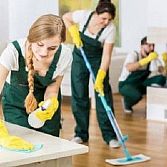 Carpets are a part of almost every household. People tend to use carpets to create a more homely vibe and to inculcate the feeling of warmth inside the home. Besides the beauty that they add to the su...

Also found
Environment
We will minimize, reuse and reuse all materials wherever possible. Our toner and ink cartridges are recycled using the manufacturer\'s recycling services. We use environmentally friendly suppli... Keywords
Contactinformation of
Cleaner
company
Top Class Cleaner London
from
London
, London. Call 02037458352 or e-mail
[email protected]
Contact
Top Class Cleaner London
from
London
they helps you with your questions concerning
Cleaner