Camrate Computer software sales London
Camrate
4th Floor, 33 Cavendish Square 33
W1G0PW
London
County: Wigtownshire, Wales
Branche:
Computer software sales
Company description
Rate and Review ANYTHING! Cam Rate - Our rating app will not only save you time and hassle when it comes to creating, posting and sharing ratings, reviews and opinions about anything - it will also make a difference to the people around you and the world at large.

Every opinion is an opportunity to ; make your voice heard, stand for something, make better decisions and help friends and others around the world do the same.

Could you imagine a world without this? We couldn't, so we built it. Welcome to CamRate.
Recommendations
Be the first to write a review.
Related blogs
Email Automation Bot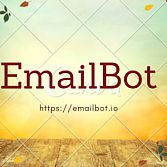 EmailBot is an automated Email Sending platform driven by Artificial intelligence to help you make maximum out of Email Marketing. EmailBot is among the most trusted Email Sending platform where we h... Keywords
Contactinformation of
Computer software sales
company
Camrate
from
London
, Wales. Call 004402089533962 or e-mail
[email protected]
Contact
Camrate
from
London
they helps you with your questions concerning
Computer software sales