CHIP SHOP CHICKEN CURRY PIE
Https://ethelspies.com/products/chip-shop-chicken-curry-pie
Allergens: Wheat, Mustard, Milk, Egg

FILLING: Free-Range British Chicken (51%), Water, Coconut Milk (Coconut Extract, Water, Thickener (Carboxymethyl Cellulose), Emulsifier (Polysorbate 60)), Onion, Madras Curry Paste (Water, Rapeseed Oil, Coriander Powder (8%), Paprika Powder, Salt, Turmeric Powder, Cumin Powder (2.5%), Acids (Acetic Acid, Citric Acid, Lactic Acid), Tamarind, Maize Flour, Fenugreek Powder, MUSTARD Powder, Black Pepper Powder, Ginger Powder (1%), Chilli Powder (1%), Spices (0.5%), Garlic Powder), Rapeseed Oil, Chicken Stock (Chicken Meat and Fat, Water, Salt), Ginger, Corn Starch, Coriander, Chilli, Garlic, Seasoning & Herbs

PASTRY: WHEAT Flour (calcium carbonate, iron, niacin, thiamine), Vegetable Shortening (20% Rapeseed Oil, 80% RSPO palm oil), Butter (MILK) (13.5%), Water, Free-Range EGG, Salt

Storage: Refrigerate below 5 degrees C for chilled. Store below -18 degrees C for frozen

Reactions
Be the first to write a review.
Related products in the region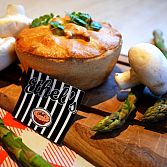 Vegetarian Mushroom and Asparagus Pie
Allergens: Wheat, Milk, Mustard, Sulphites, Celery, Egg. FILLING: Mixed wild & cultivated mushrooms (37%), Asparagus (17%), Water, Leeks, Onions, Semi-skimmed MILK, Double Cream (MILK), Corn Star...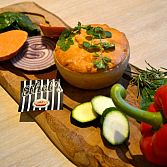 Vegan Potato, Onion and Squash Pie
Allergens: Oat, Wheat, Celery, Soya. Filling: Spinach, tomatoes, sweet potato, butternut squash, red onions, courgettes, peppers, aubergines, vegan greek style cheese(Water, Coconut Oil (24%), Modi...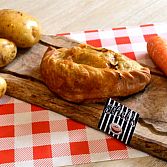 Traditional Cornish Pasty
Allergens: Milk, Wheat, Egg. Filling: Beef, Potato, Turnip, Onion, Sea Salt, Black Pepper. Pastry: WHEAT Flour, Margarine, Butter (MILK), Lard, Egg . Storage: Refrigerate below 5 degre...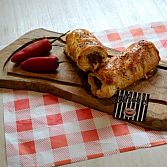 Sweet Chilli Sausage Roll
Allergens: Sodium Metabishulphite, Wheat, Filling: 89% British Pork, Water, 2% Blossom Honey, Dried Coriander, Grilled Red Peppers, Fried Jalapeno Peppers, Dried Red Pepper, Salt, Sugar, Garlic Pu...