Vegan Potato, Onion and Squash Pie
Allergens: Oat, Wheat, Celery, Soya.

Filling: Spinach, tomatoes, sweet potato, butternut squash, red onions, courgettes, peppers, aubergines, vegan greek style cheese(Water, Coconut Oil (24%), Modified Potato Starch, Maize Starch, Salt, Natural Flavourings, Gluten Free OAT Fibre, Thickeners (Carrageenan, Guar Gum), Modified Maize Starch, Acidity Regulators (lactic Acid, Sodium Lactate), Colour (Mixed Carotenes), Vegan Flavourings, Preservative: Sorbic Acis, Vitamin B12, water, rapeseed oil, vegetable bouillon (salt, vegetable oil (palm, sunflower), potato starch, sugar, Maltodextrin, Yeast extract, Flavourings (contain CELERY), Carrots (2.4%), Onion Powder (2%), Spices (CELERY Seeds, Turmeric, Pepper), Parsley), potato starch, garlic, chilli, herbs, salt and pepper.

Pastry: WHEAT flour (Calcium carbonate, iron, niacin, thiamine), Vegetable Shortening (80% palm (RSPO), 20% Rapeseed Oil), Margarine (Water, Sunflower Oil (41%), Palm Oil, Salt (1.4%), Preservative (Potassium Sorbate), Emulsifier (Mono- and Di-Glycerides of Fatty Acids), Acidity Regulator (Citric Acid), Flavouring, Colour (Carotenes), Vitamin A, Vitamin D), Water, Soya Milk (Water, Hulled SOYA Beans (6.5%), Apple Extract, Acidity Regulators (Mono-Potassium Phasphate, Sipotassium Phosphate), Calcium (Calcium Carbonate), Maltodextrin, Sea Salt, Stabiliser (Gellan Gum), Vitamins (Riboflavin (B2), B12, E, D2) Fermented Umami Liquor (water (97%), Salt, Sugar, Acid (Lactic Acid), Vegetable Extract), Salt, Glaze (Water, vegetable proteins, sunflower oil, dextrose, maltodextrins, starch)

Storage: Refrigerate below 5 degrees C for chilled. Store below -18 degrees C for frozen

https://ethelspies.com/products/vegan-squash-aubergine-courgette-and-vegan-feta-pie

Reactions
Be the first to write a review.
Related products in the region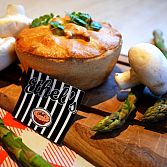 Vegetarian Mushroom and Asparagus Pie
Allergens: Wheat, Milk, Mustard, Sulphites, Celery, Egg. FILLING: Mixed wild & cultivated mushrooms (37%), Asparagus (17%), Water, Leeks, Onions, Semi-skimmed MILK, Double Cream (MILK), Corn Star...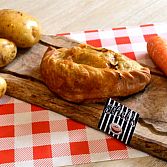 Traditional Cornish Pasty
Allergens: Milk, Wheat, Egg. Filling: Beef, Potato, Turnip, Onion, Sea Salt, Black Pepper. Pastry: WHEAT Flour, Margarine, Butter (MILK), Lard, Egg . Storage: Refrigerate below 5 degre...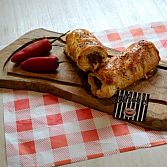 Sweet Chilli Sausage Roll
Allergens: Sodium Metabishulphite, Wheat, Filling: 89% British Pork, Water, 2% Blossom Honey, Dried Coriander, Grilled Red Peppers, Fried Jalapeno Peppers, Dried Red Pepper, Salt, Sugar, Garlic Pu...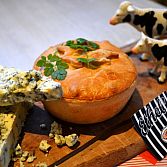 Steak and Stilton Pie
Allergens: Barley, Fish, Wheat Milk, Egg. FILLING: Beef Steak (grass fed 28-day aged) (46%), Water, Carrots, Onions, Cropwell Bishop Stilton (MILK) (5%), Corn Starch, Rapeseed Oil, Beef Stock (Bee...