INTENSIVE DRIVING COURSES
POPULAR INTENSIVE DRIVING COURSES IN BEDFORD
10 hour intensive driving courses (Manual/Automatic) (2-3 day)

30 hour intensive driving courses (Manual/Automatic) (5-7 day)

20 hour intensive driving courses (Manual/Automatic) (4-5 day)

40 hour intensive driving courses (Manual/Automatic) (7-14 day)

10 hour Semi-Intensive Driving Course (Manual/Automatic) (1 Week)

20 hour Semi-Intensive Driving Course (Manual/Automatic) (2-4 Week)

30 hour Semi-Intensive Driving Course (Manual/Automatic) (5-6 Week)

45 hour Semi-Intensive Driving Course (Manual/Automatic) (5-6 Week)

Reactions
Be the first to write a review.
Related portfolio in the region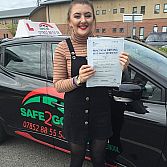 Safe2go Driving School
With Safe2go Driving School we aim to teach our students professionally and at ease to ensure they pass their driving test and afterward will always be Safe2go. Learn to drive is a skill for life and ...