The Flower Shops Flowers London
The Flower Shops
Silverthorne Road 80
SW83HE
London
County: London, London
Branche:
Flowers
Company description
We are a family run business with many years of experience in floristry. Over the years we have built an excellent network of the finest florists across the UK. We deliver the same day to all towns and villages of the United Kingdom. We have one florist working exclusively in a particular region, who learns and shares the values of the whole network and is trained to make the bouquets as sold on our website. This makes us unique and different from others online flower sellers, who are sending flowers from a central location via courier. Every florist is committed to the network and ensures that the highest standards are met.
Recommendations
Be the first to write a review.
Related blogs
Top 3 most popular Christmas flowers to buy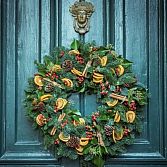 Christmas is almost here and you might have been invited to an official Christmas Eve dinner with your friends, family or loved one's relatives. Do you know waht you will bring with you? Any thoughts ...


Keywords
Contactinformation of
Flowers
company
The Flower Shops
from
London
, London. Call 00448001032688 or e-mail
[email protected]
Contact
The Flower Shops
from
London
they helps you with your questions concerning
Flowers