Related blogs
How Driving Lessons in Warwick are Motivating New Learners
There is a big difference between skillful driving and safe driving. And here at "Road Matters Driving School", instructors are helping learners, master both the techniques in a profession...


Why Custom an Inflatable Water Slide From Sunjoy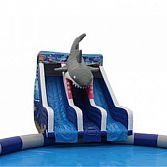 Inflatable water slide is a very interesting activity, often appear in the water park, attracting a large number of children and adults. In the summer, if you have an inflatable water slide in the wat...